Jarod Lucas is Travis Scott's Butterfly Effect
Jarod Lucas is this cold blooded 6-3 PG on the court who leads a Compton Magic AAU team that has only lost once recently. This 2019 baller got game Fosho!
Smooth handle, nice J, but it's the look of determination in his eyes that speaks as loud as a bomb for J-Lucas.
I asked dude to explain how he feels on the court, "I flip the switch for game time. My competitors, we could be best friends off the court but I'll be totally locked in on anyone I play, ready to give that 100%."
Yeah, young bull has made E-Woods a believer. J-Rock, he rocks #2 and has a super dope reason he chose to rep that jersey number. It has significance as he says, "I've always been thought of as 2nd best. I know I'm not supposed to look at rankings but I'm looking to prove my status when I step on that court every time."
Dang son, Jarod don't play around, but I like it, I like it...100.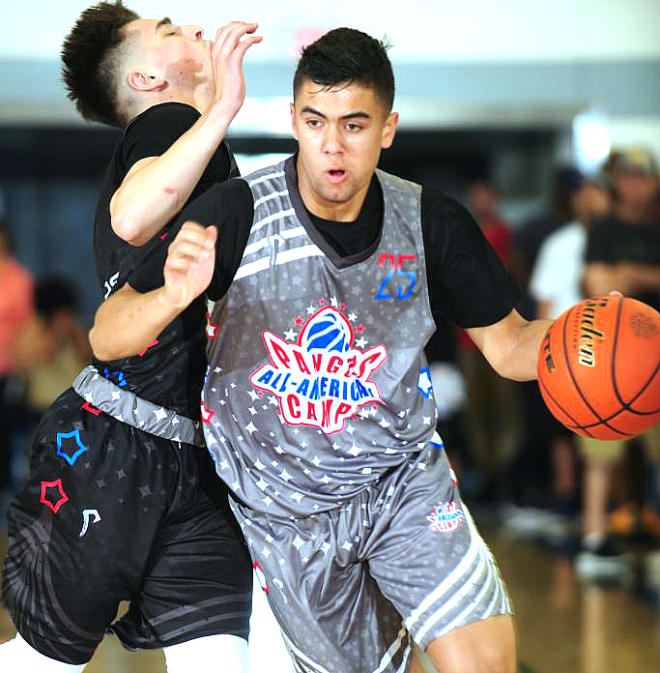 What really impresses me is that J is a spiritual kid and gives props to those who have nurtured him, "I make a sign of the cross and look to the sky before each game in honor of my grandfather, Richard Dagampat. He was an All American in football. I celebrate his memory every time I play."
Jarod loves rapper Travis Scott's song, Butterfly Effect. Both these dudes got tight hoop and music game. You feel J-Rock's game come alive through these T-Scott's lyrics:
"Murda on the beat so it's not nice
For this life, I cannot change
Hidden Hills, deep off in the main M&M's, sweet like candy cane
Drop the top, pop it, let it bang (Pop it, pop it)."
Jarod got it poppin' like last season and is really proud of his Los Altos High team. Let him speak on his goals for next year, "Our team hopes to win CIF and make a push for winning State. We just need to play as a team. I've been running with Julian Lopez since 4th grade, we just believe we can achieve big things."
To me, E-Woods, that's what separates this youngster from others. Dude is "team first and driven." That makes him a high major, as much as his quick rise jumper. Jarod is nationally ranked at 91st in his class by Rivals.com. I feel this kid will climb the ranks. No doubt.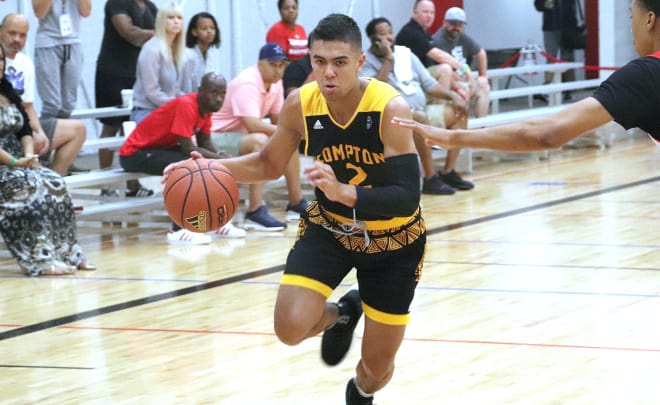 This prospect has mad training to propel his dream of emulating Damian Lillard's style of game. His highly respected trainer Olin Simplis meets the young buck's energy every morning at 5:30 am, they're in the lab, Frankenstein-ing et al.
Simplis relates, "Love this kid, he gets on it for both ends of the floor, hard worker, always at it, expect big things from him."
Why does J like D-Lillard's game? Let him speak on it, "Dame, his off ball screens and reads are incredible. I want to be like him in college."
I switch gears asking Jarod about his AAU team and recruitment. He says, "Our Compton Magic goal is to win in Vegas, get that chance to be on ESPN. Our team has a family vibe. I appreciate playing with Isaiah Mobley, we want to show what we have."
In terms of recruitment, Lucas says, "I'm open, looking for a major program and I've heard the most lately from Gonzaga, Stanford, Oregon, Santa Clara, Nevada, and USC."
Seven schools have offered Jarod: Nevada, UNLV, UC Irvine, Tulane, Fresno State, CSUN, and Albany.
There you have it, two years left in high school. J-Lucas and highly ranked Cassius Stanley have to be considered the top Cali guard prospects. Keep an eye out for this baller - he's good and is getting better.