Kaiyah "Shining" Corona: Queen B of Cali
Who turned the million watt lights on you will ask? Just know Kaiyah Corona has this effect when you're in the same room room with her.

You need to realize her personality makes everything go from 0 to fun in 3.5 seconds as she steps into a room with you.
Stepping on the hardwood with her, better hope she's on your team because the comp usually goes from 0 to "likely losing" in 40 minutes fosho.
Yes, Kaiyah's sheer willpower is like few others in the Golden State. Off court, she's poppin' like Beyoncé. On court, think the grim reaper of lady hoops preps. 100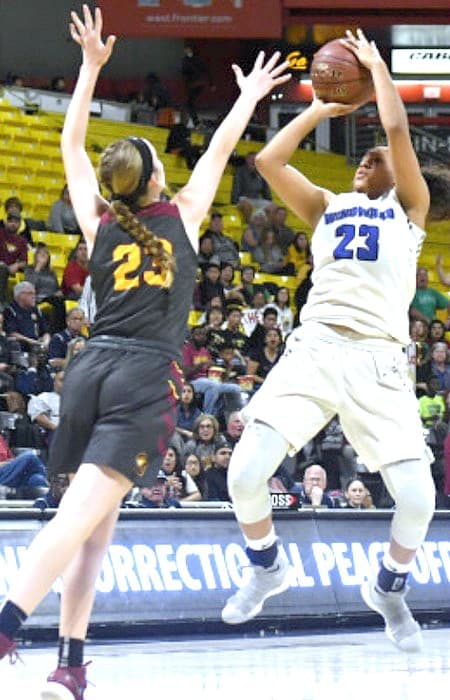 Really E-Woods, are you really sure?
Oh yeah, K-Corona is all that. Vivacious, peppy, a true competitor that made the state's all open division first team. She helped power a second state chip for her Windward High, with a chance to make it thrice.
This girl is intelligent with good grades, let her speak on how how precious that moment of chasing "the precious" felt, "When we first won a state championship, I looked around, jumping up and down and said, 'Are you serious?'
"I told my teammates 'I love you all so much!' Jumping up and down I shouted, 'Can you believe this, let's do this again.'
"We did, and now we want another. We all play our role, we believe we can beat any team in the state because we believe in each other. We have great coaches, why not?"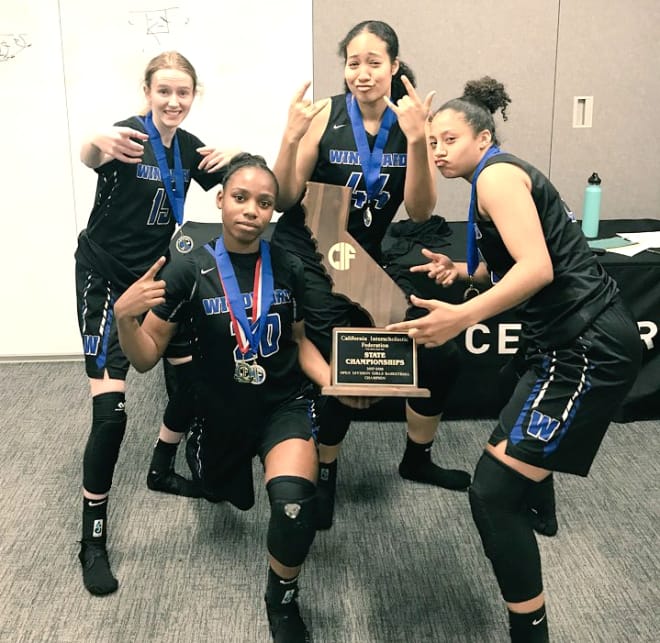 Kaiyah is starting to sound like Russ Westbrook, Why Not? For this girl, who is as beautiful on the outside as she is on the inside, K-Corona resembles a young Beyoncé, sheik, driven, and when needed, ruthless, in an ethical way.
What impresses me most about her?
Girl overcame two ACL injuries in her young life, the first occurring in the summer going into her 8th grade year. The second going into her 9th grade year.
But these injuries didn't stop her. She wouldn't let them define her. Others might've given up hope if they had to go through that struggle, but it just made her stronger.
Me, E-Woods, I tore my knee patella at age 39. Big dummy I was still trying to slam dunk in games, but like a phoenix I came back 10 x's as good.
Kaiyah has this incredible mentality that is 10 x's more determined than I ever was or will be. She's like my heroine for this reason, without blinking I say this.
So what does define Kaiyah then?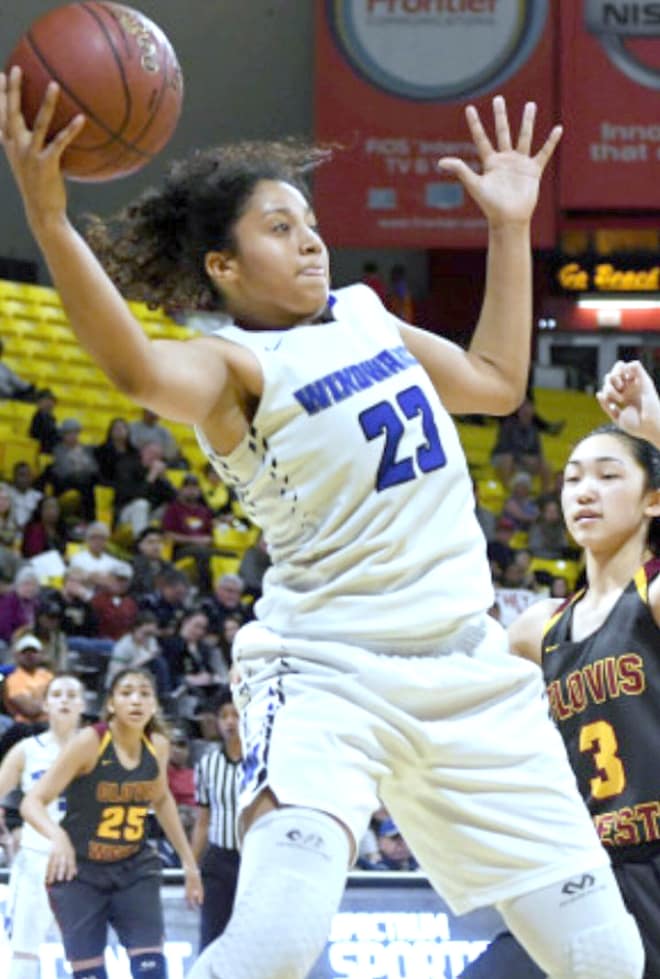 Her undeniable spirit, fantastically joyful attitude, her infectious giggle, everyone draws energy from her. She isn't just surviving, she's thriving.
Tell us Kaiyah why you play this game, "I play every game like it's my last. I tell younger kids to never take for anything granted. I love this game with all my heart.
"I often spend 12-14 hours at school commuting there, in class, training, and studying after class before getting home. But it's all worth it, I'm lucky to have this in my life."
I know many of Kaiyah's friends and I've seen her play over and over. She scores and does the dirty work to power her Windward and West Coast Premier AAU teams to victory.
What's my takeaway about her as a person and player?
Kaiyah is the living embodiment of DJ Khalid's song Shining that features Beyoncé in the following refrain. The lyrics which rep her irrepressible spirit are:
"Money don't make me happy
And a fella can't make me fancy
We smilin' for a whole 'nother reason.
It's all smiles through all four seasons."
This girl simply makes you smile. She takes the mic in hoop games, belts out tunes that vibrate the floor, that make the scoreboard her fan. She's not just fierce out there, she's Sasha Fierce no doubt.
Hear from Kaiyah how it felt to win state titles, "I'll do whatever it takes to win, give another girl my shoulder, put my head down and drive to the rim. I'm developing my jumper to be more effective at the next level.
"All I know is, all these girls I play with are my sisters and we push each other to win it all, that's what it's all about."
Kaiyah has the perfect last name. In Spanish, Corona doesn't just mean "crown." This exact definition of Corona describes this special girl exactly:
Corona: "The rarefied gaseous envelope of the sun and other stars. The sun's corona is normally visible only during a total solar eclipse."
Kaiyah eclipses other players by her dominant play and that play has landed her D1 offers from Hawaii and Northern Arizona University. She's also being recruited by Ivy League schools and says she's still open regarding her recruitment.
She says about her criteria of which program she's looking for, "I want a school that believes in me, has players that gel and get along. My goal is to be a business major in college."
Where did that love of biz come from for her?
Rewind 10 years. Lil Kaiyah, that sweet girl from Watts, worked at her grandparents' store Harris Meat Market. Chopping up meat, chopping it up with the customers, chopping up the comp in sports such as T-ball, soccer, and basketball.
Kaiyah draws from her past to prepare for her future, "Sooner or later for an athlete the ball stops bouncing so I've thought about starting a business, growing it and pouring myself into it like I've done with basketball.
"I've worked hard to get my grades up at Windward. I want that challenging college to set up my life. Basketball has been a stress reliever from the academic grind.
"Being joyful, showing happiness is important, but behind the smile is my serious side. I'm proud to be a serious person who has serious goals in life."
Her grandfather Dennis Shields exudes pride in her, "That girl has always been a go-getter, always had the 'it' factor.
"I told her of my boxing days and I see her in myself with that similar mentality. She's just that special someone that's easy for everyone to root for, always bringing us on our feet. We could clap for Kaiyah all day."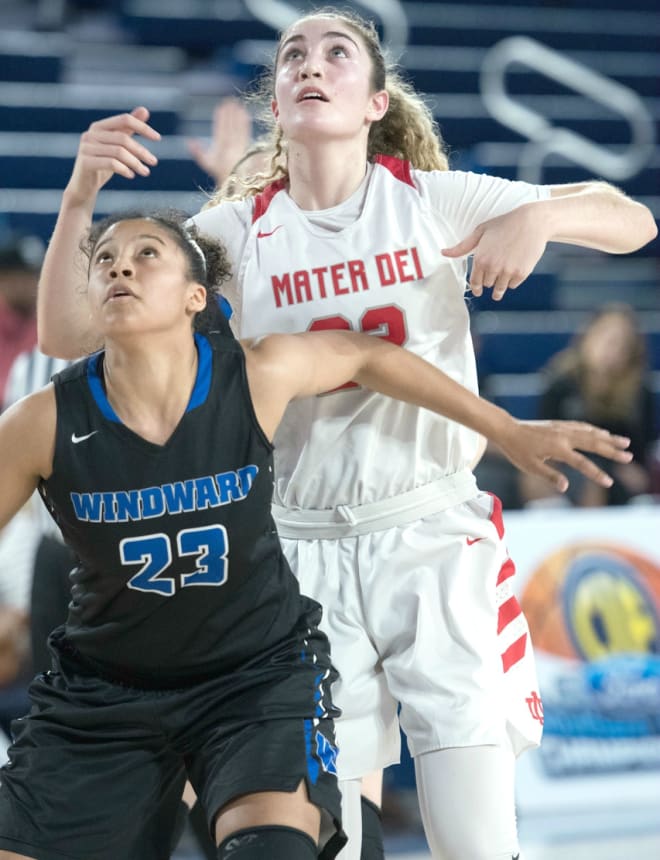 How much incredible praise has K-Corona received in the past?
Hear from the gold standard of women's basketball talent evaluators, Prentice Beverly, who had these powerful words to describe K-Corona in the past when he saw her playing for her previous AAU team Cal Sparks,
"Kaiyah Corona of Long Beach, California is a feisty and crafty player that does all the intangibles that coaches love. The 5-9 Cal Sparks wing attacked the rim and either produced in the paint or dropped dimes to her teammates.
"The 2019 Corona does a good job running the floor and finished well off the break. She also displayed a nice mid-range touch. Defensively, Corona did an excellent job jumping into the passing lanes on the perimeter or in the low post.
"Simply put, she finds a way to make plays to help her team win. Corona is an all-around player and will make the program that lands her very happy."
BIG words, BIG game.
Hear from her loving dad, Emilio Leon, how he appreciates her, "Kaiyah has always been ahead of her time, mature for her age. She takes such good care of her 13- and 8-year old siblings, Jaseer and Kailey. That makes us so proud.
"She knows the value of work from helping in her grandparents' store her whole life. She is using this opportunity of being at Windward, being a ball player, as a springboard to be successful at the next level. We're 100% confident in her bright future."
Yup, Kaiyah balls out like Beyoncé sings. They both entertain while earning your respect. Ju Ju sings for Jay-Z, but Queen B Kaiyah plays for us all.
She plays for you and me, she plays for her sisters at Windward who love her, and for her WCP team that feeds off her sparkle. See her ball, you'll know what's up, right quick.
This girl's skill set? Dope. Her heart? 2xs dope.
She has this snack size bag of 2 x's state chips, that might just be upgraded to a family size bag if she wins another state title with Windward this next season.
But for now, we're lucky to have our own Queen B here in Cali. When you meet her, you'll feel lucky to spend a lot of time chopping it up as I have.
Why? She makes you smile from this amazing zest for life she has, that sparkle that finds its way into your heart, because she has heart like few others. 100.