Q&A with 2018 Five-Star Power Forward Miles Norris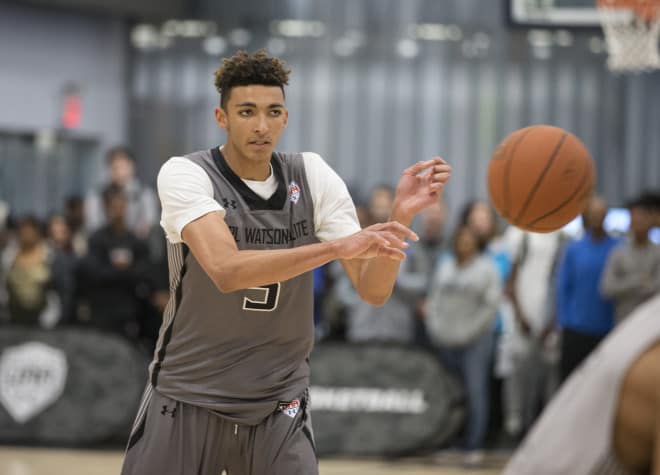 Indianapolis, Ind. - Five-star power forward Miles Norris says two schools are recruiting him the hardest right now. Rivals.com caught up with the top 25 player in 2018 at the second session of the Under Armour Association to get an update on his recruitment.
This is the second weekend for the AAU season and Earl Watson Elite, how do you feel like your team has been doing?
"I think we're starting to progress really well. Last week we were getting used to each other but now we're starting to play more like a team."
You have a bunch of college coaches out here watching your games the last couple weeks, how is it playing in front of them?
"It's a lot of fun. I'm kind of used to it by now so I don't get nervous or anything but I love it. Everyone seems to play a little bit harder when there are college coaches around and I love that competition."
On the recruiting side of things, I know a lot of Pac-12 schools have offered, have any of the schools started to set themselves a part from the rest?
"Two schools in the Pac-12 that are recruiting me the hardest right now are Oregon and Arizona. Those are the two schools that have been talking to me the most."
With Arizona they already have commitments from Shareef O'Neal and Emmanuel Akot. How is that going to influence your decision?
"I don't think it's going to influence me that much. I was talking to coach (Sean) Miller right after Shareef committed and he was just telling me how the wings play together and they're a spread offense so I definitely think there's still room for me there."
How did you react to the decision to bring on Lorezo Romar to the coaching staff?
"I like coach Romar a lot. I think Arizona is a great fit for him and he's a good coach so yeah, I think it was a good move."
Oregon is the other school that's recruiting you the hardest right now, what's been their pitch to you?
"I just love their style of play. I love how they run the floor and how the coaches just let their guys play. That's what I like the most about them. The coaching staff has just said I would be a good fit and can come in a just play the way I've always played."
I know you were hearing from North Carolina after the first live period, have they offered yet?
"No they haven't offered yet. I saw coach Williams here at my game tonight so hopefully I'll be hearing from them soon."
Have you had any in-home visits recently?
"The only in-home I had was with coach Miller. He came a couple weeks ago and talked to me for a few hours. It was great to have him in my house. My dad cooked for everyone and it was a good visit."
Do you have any visits planned for the spring and summer?
"Nothing scheduled right now. I definitely want to get to Arizona and Oregon at some point."
When do you expect to narrow things down and make a decision?
"I think I'm going to have a good idea of where things stand with schools after the AAU season so I hope to have a decision by then or sometime in the fall."